My last and final project around the mele a2000: a bit perfect player with mpd and display.
Arm powered (Allwinner A10).
Updated with a linear and regulated power supply.
quick and dirty !
Schematic: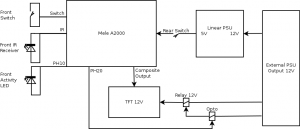 Fully working.
Ultra low power – switches to 60MHz on standby and 1Ghz on playback
External 12V Fortron PSU + Internal Audiophonics PSUS2 (for the mele only)
Automatic power on of the display via the ph20 of the mele + optocoupler Letex LA213 + 12V relay
Remote control with lirc, able to mechanize mpd via mpc
Bit perfect playback to my Micromega MyDac
Connected to my NAS via CIFS (seemless network reconnection)
Display the media quality, load, track informations via Conky and flap to the album picture every 30 seconds
On the front, power button of the mele, led connected to the mele ph10 (blinking slowly on standby), IR receiver
It runs ubuntu on nand with Xorg + conky.
The display turns off after 120 seconds of mpd inactivity.
The remote (lirc) manages play/stop/forward/volume etc…
The display used is connected to the composite video output and cost … bought at $18 on ebay.
The new linear power costs $30.
Total pure audiophile player cost ~ $160 ($40 of casing).
The rest of my setup:
Micromega MyDac
PreAmp: nuForce P8S
Crossover: dbTechnologies ASX 18 (with new Muse caps)
2 x Klein Hummel O300d
2 x RCF ayra 10 sub
Cables: rca from sommercable/choseal, usb from lyndi, xlr from viablue NF-S1 + yarbo
References:
MPD config
LIRC config
Audiophonics PSUS2
Ubuntu image
Kernel update
Composite monitor
Previous with the dirty psu (for the record):