(my reminders…)
ESC/UBEC or dual ubec redundancy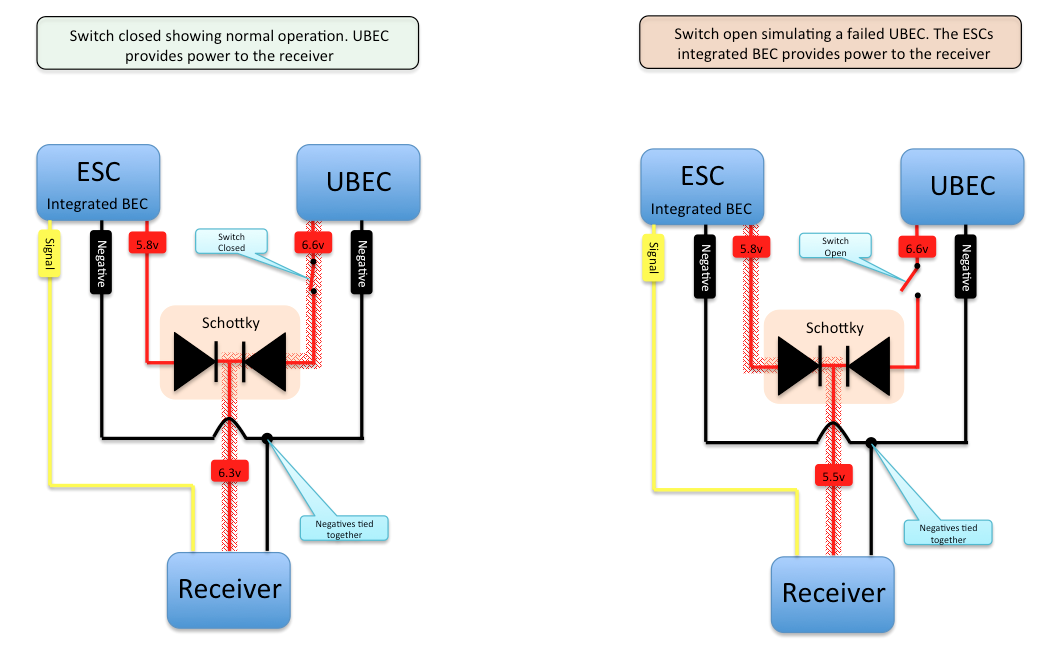 2 Diodes schottky 5A.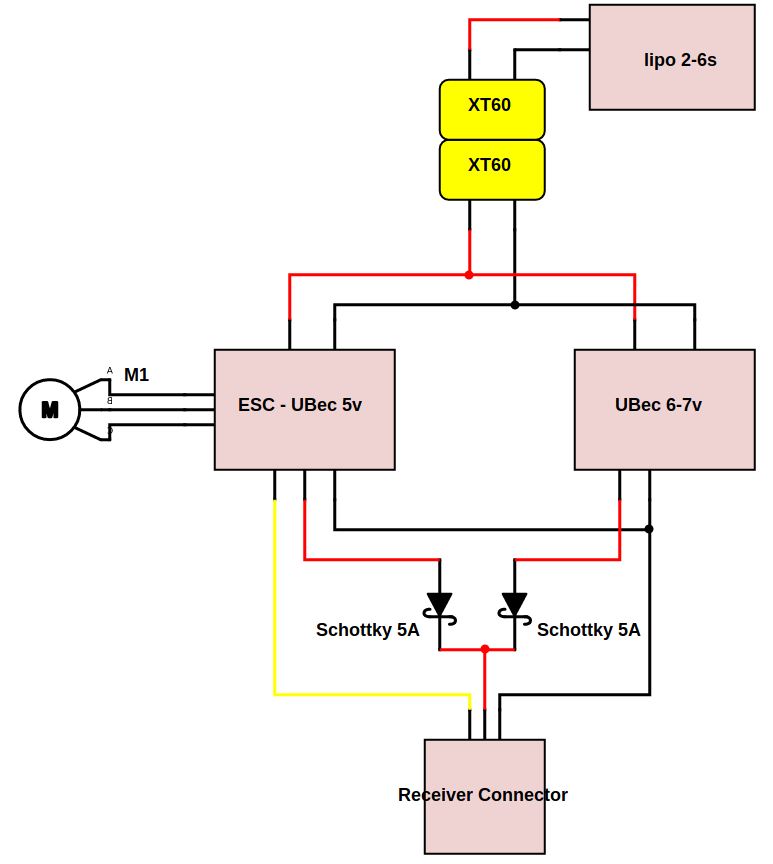 Taranis X9E – Using G-RX8 + R9 MM/Mini redundancy
Taranis X9e pinout:
ANT → S.port input (can also be used to update a RX or a S.port sensor)
GND → GND
BAT → Connected to the internal NiMh battery (be careful with the max voltage when using a 3S LiPo)
+6V → Heartbeat: it is in fact an UART input port which can be used for a wireless buddy box (you need to plug a CPPM or S.bus signal coming from a RX bind with the student radio).
PPM → PPM output used for any external RF module.
To upgrade the firmware of a receiver:
Connect the 3 first pins to the same pins of the receiver (SPort – Bat [+] – GND)
Taranis: Connect USB, upload your firmware file to the sdcard, Go to radio setup menu, Page SDCard, file, flash external device
Long and detailed:
G-RX8: Digital servo -> switch to HighSpeed mode (HS)
Connect CH5 and CH6 signal pins with the included jumper before Binding, the receiver will enter HS mode.The receiver will enter into FS mode without the jumper connected.
G-RX8: PWM mode for Ch7-8
Connect CH1 and CH2 signal pins with the included jumper before Binding.
Redundancy: 2.4GHz with telemetry (Master) – r9 MM/Mini as backup (slave)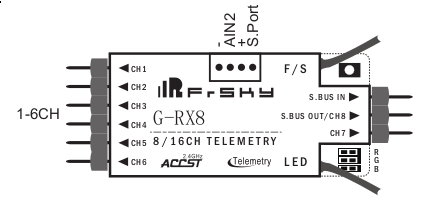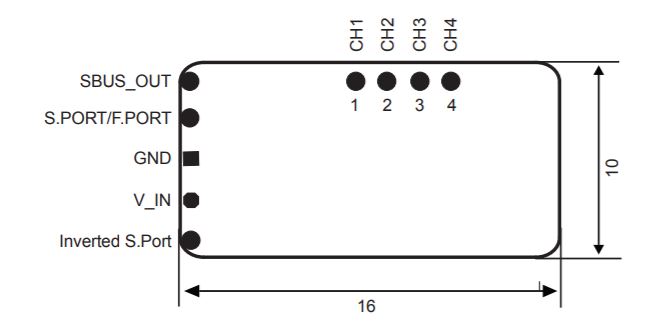 Bind each module 2.4/800 with the taranis TX modules (internal, r9)
Connect G-RX8 S.BUS-In to R9 MM/Mini S.Bus-Out.
G-RX8: lipo voltage monitoring with AIN2 input
4s / 3s / 2s lipo: select the appropriate R1/R2 to not exceed the 3.3v AIN2.
On openTx (the radio), you just have to configure the appropriate voltage factor to display the correct current value of the lipo. Easy and accurate.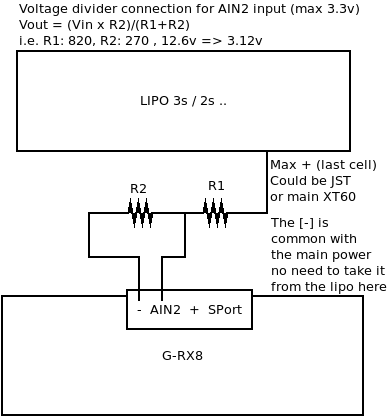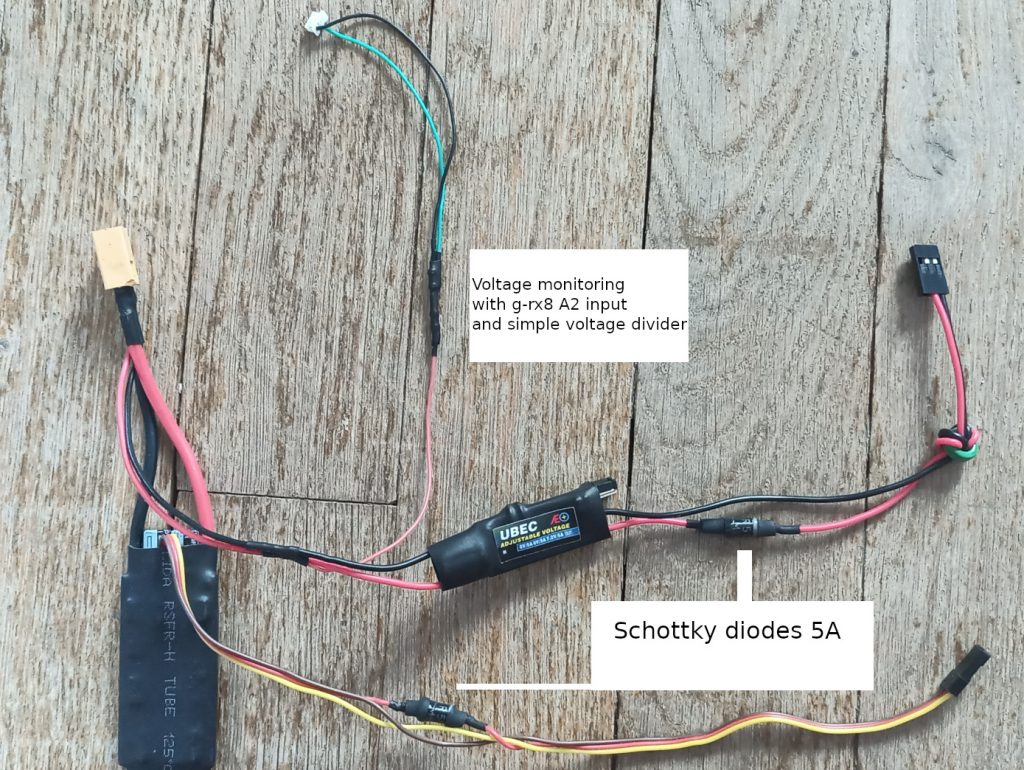 Wing servo frame
Parametric wing servo frame for KST / MKS / BlueBird servos
Github Parametric wing servo frame for KST / MKS / BlueBird servos
MPX Connector (personal config)